What is i-ACTIVSENSE®?
Are you looking for a quality sedan or SUV with an abundance of safety features to help make your ride secure? Many new Mazda vehicles are offered with i-ACTIVSENSE®, an integrated suite of advanced safety features that have been carefully designed to make your life easier. Explore how these various systems work together, and test them out in person at Beach Mazda in Myrtle Beach, SC.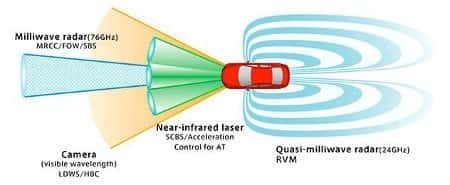 Active Systems
These features are all put in place to reduce that chance of a collision:
Adaptive Front Lighting System: This feature is able to angle your headlights so that you're able to see around the curve when turning around a bend.
High-Beam Control: The high beams automatically turn on when there's no one around and turn off when there's another vehicle in the vicinity.
Mazda Radar Cruise Control: This adaptive cruise control system is able to help you keep a safe distance between your car and the car in front of you by automatically braking and accelerating when your cruise control is on.
Rear Vehicle Monitoring System: If there is a vehicle behind you or in one of the neighboring lanes, this system will warn you so that you don't back up or switch lanes at the wrong time.
Lane Departure Warning System: This system is able to let you know if you're not staying centered in your lane.
Forward Obstruction Warning: When your vehicle is getting too close to a vehicle or object in front of it, this system warns you to apply the brakes to avoid a collision. It works at different speeds depending on the version you get.
Acceleration Control for AT: This system automatically reduces acceleration when the driver accidentally hits the accelerator.
Pre-Crash Safety Systems
These systems intervene to help intervene when a collision seems possible:
Smart Brake Support – This system is able to automatically apply the brakes to help avoid or mitigate the impact of a collision.
Get a New Mazda with i-ACTIVSENSE®
The new Mazda lineup features a variety of different models that are offered with i-ACTIVSENSE®, including popular vehicles like:
Explore this advanced suite of safety features today at Beach Mazda, located at 855 Jason Blvd in Myrtle Beach, SC. We have the full lineup of new Mazdas in stock. You can contact us at (843) 839-8169 with any questions about our dealership, i-ACTIVSENSE®, and anything else about the new Mazda lineup.