Record Breaker for Mazda Motorsports!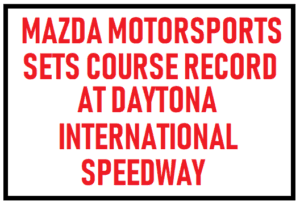 It's been a while since we've written about Mazda Motorsports. We have some really exciting news to share with all of you! Olly Jarvis, the Number 77 Mazda RT24-P driver broke a long standing record at Daytona International Speedway! Keep reading to learn more!
Qualification Rounds
During the qualification rounds at Daytona International Speedway for the Rolex 24 at Daytona, Olly Jarvis went around the track faster than any other car in history! Jarvis earned the pole position and broke a 26 year old course record for the 3.56 mile road course. How amazing is that?
Record Time
Jarvis broke the record on his fourth lap with a time of 1:33:685. That broke the record of 1:33:875. He held that time to the end of session. Jonathan Bomarito is the driver for the number 55 Castrol Mazda RT24-P. His time was 1:34:212 which earned him fourth position.
Pole Position
Jarvis' time made this the first overall pole position in Mazda Motorsport history at the Rolex 24 in Daytona. It was also the first pole position in IMSA for Jarvis, as well as for the Mazda RT24-P. Beginning forty years ago with a 1-2 finish for the Mazda RX-7 in the GTU class, Mazda has earned 22 class wins.
Proud Achievement
Here's a quote from John Doonan, Director of Mazda Motorsports:
"Everyone at Mazda is appreciative of IMSA to give us the chance to showcase our brand here in this championship. It's been a good month. The Roar was good and today was good, but this weekend is what it's all about and we hope that it can be a great end to what has been a good month. Everyone involved with Mazda Team Joest – Multimatic, AER, and these drivers – have been absolutely non-stop and we are very, very proud of the results we are seeing from their effort. All that effort has resulted in Mazda's first pole position at this race. We have been in touch with the Gurney family since we unofficially went under the track record at the Roar Before the 24, and we are really pleased to honor them with this track record."