Mazda Certified Pre-Owned Vehicles: Take a Look!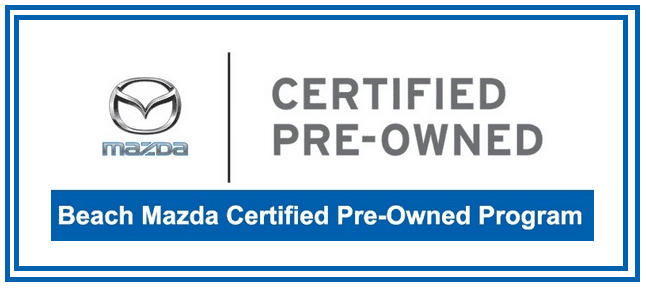 It's no secret that Beach Mazda sells brand new Mazda vehicles. Everyone know that we also sell used Mazda vehicles. But, did you know that we also sell Mazda Certified Pre-owned Vehicles as well? Do you even know what the difference between a regular pre-owned Mazda and a Certified Pre-owned Mazda vehicle? Well, we're here to tell you all about! Keep reading for details.
The Process
Many times in the car buying process, a car buyer will trade in their current vehicle to aid in the purchase of a new car. Their car will then become a pre-owned vehicle that we may be able to offer for sale on our lot. However, when a Mazda vehicle is in exceptional condition, we may be able to offer it as a Mazda Certified Pre-Owned vehicle. Not just any pre-owned Mazda vehicle is labeled as "certified". There's a process to the certification.
Highest Standards
Mazda prides itself on designing and offering vehicles that are tested and retested to make your driving experience better. Mazda Certified Pre-Owned vehicles are no different. Originally built and designed with Mazda standards, they are also well kept and serviced by their previous owner. Once they are here at Beach Mazda, the vehicles go through a 160-point inspection process. This determines if they are "certified".
Everything under and above the hood goes though analysis for maximum performance, efficiency and reliability. From brakes to transmission to A/C and heating, this is how Mazda ensures that every vehicle will look and perform like a brand new Mazda vehicle. One thins is important to realize though. If the vehicle doesn't meet the highest standards, it goes through a reconditioning possess. We use genuine Mazda parts. They have to be quality vehicles and if they aren't, well, they don't get to be called "certified". Another great things about Certified Pre-Owned Mazda vehicle is that they comes with warranty protection and 24-hour emergency roadside assistance.
To learn more about the Mazda Pre-Owned Certification process or to test drive a Mazda Pre-Owned vehicle, give Beach Mazda a call today. Our knowledgeable sales and service staff are more than happy to help you! Certified Pre-Owned Mazda vehicles are just as good as new vehicles. They save you a bunch of money as well! Let Beach Mazda tell you all about the certification process and even show you one in progress if we can. Our service advisors would even be able to assist you. By all means, call Beach Mazda and you can be driving in your new-to-you Mazda vehicle today!