Mazda and Sustainable Zoom-Zoom 2030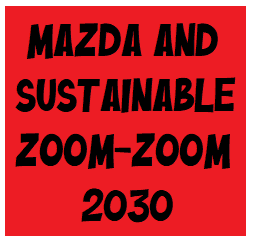 Mazda Motor Corporation recently declared its new technology and product development strategy towards 2030 established on the company's long-term vision for technology improvement, "Sustainable Zoom-Zoom 2030." Read more here:
Carbon Neutrality
Centered on our improved Medium-Term Management Plan and our effort for carbon neutrality by 2050, which were revealed in the past year, we will continue with technology and product growth towards 2030 following the below five guidelines.
Buildup of technological resources in line with our developing unit approach and their deployment for highly effective manufacturing. Mazda has constantly observed its Building Block Strategy to effectively provide advanced technologies by creating up a set of vital technologies as "blocks".
Advancement of Electrification and Introduction of Products — Multi-solution Strategy. The "SKYACTIV Multi-Solution Scalable Architecture" goods to be announced mainly for Japan, Europe, the US, China and ASEAN between 2022 and 2025 will comprise of five hybrid models, five plug-in hybrid models and three EV versions.
Sponsorship of human-tailored safety technologies to understand a crash-free civilization. In terms of building blocks for safety technology, we are currently at work on implementing our human-centric independent driving structure, "Mazda Co-pilot Concept", in our vehicles.
Expansion of technologies for connected services and software technologies as a base for next-generation mobility services. Mazda aims to reinforce our programs of growth of essential software technology in order to be able to adapt for next-generation Mobility as a Service (Maas) and update vehicle functions Over the Air (OTA)2.
Human-focused growth philosophy in a time marked by Carbon Neutrality and CASE4. The Sustainable Zoom-Zoom 2030 vision puts the person at the middle of three regions. The planet, society and humanity. We will remain to understand our human-focused growth philosophy, which respects the humanity and fundamental possibility of people, into a future where carbon neutrality and CASE are shaping the business.
Joy of Driving
In connection with our company vision, Mazda intends to develop a product that produces special bonds with consumers by enhancing their lives with an familiarity of car ownership that delivers joy of driving, the genuine spirit of vehicles.