G-Vectoring Control Makes Driving Better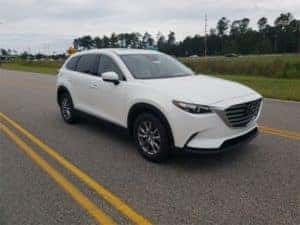 When you are driving down the road, do you ever pay attention to all the little steering movements you make while you're driving? Maybe it's just a nudge here and there, but over the course of a road trip, all those movements add up. After a while, your arms become tired. At the end of the trip you're exhausted simply from driving. Keep reading to learn how G-Vectoring Control deals with driver fatigue.
What is G-Vectoring Control?
Have you heard of Mazda's G-Vectoring Control? It's technology that uses engine timing to control the dynamics of the chassis.  This technology is exclusive to Mazda vehicles. It's beneficial because it provides a smoother and more defined steering inputs. G-vectoring Control makes your vehicle's steering response direct and linear. This is done by making tiny reductions in engine torque at turn-in. This put extra weight on the front tires.
Smooth Process
The Mazda vehicle's rapid computer processors quickly calculate how much torque is needed to shift weight back and forth between the front and rear of the vehicle. This process is so smooth the driver has no idea it is even happening. The result of this process is less movement of the steering wheel to keep the vehicle stable. This harmonious steering response between driver and vehicle is essential to Mazda's Jinba Ittai—"horse and rider as one"—driving philosophy.
Want to learn more?
Do you want to learn more about Mazda's exclusive G-Vectoring Control technology? Want to learn more about Mazda's other fantastic safety technologies too? Then, by all means, give Beach Mazda a call today! We can schedule a VIP Test Drive Experience just for you. We will have a knowledgeable salesperson ready to answer your questions and tell you all about Mazda's G-Vectoring Control technology. Please don't delay! Great deals don't last very long!
Click the link to the right to get started!