CX-9: Mazda's 3-Row SUV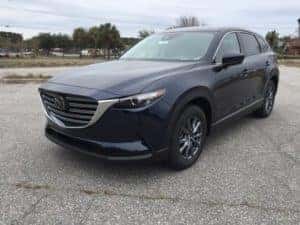 Many of our clients visit our sales area on the search for reasonably priced SUVs with 3 rows. Luckily, at Beach Mazda, we present loads of examples that make the list! Please remain reading further down to find out what Mazda versions present three-row seating!
The Value of an SUV
While a peppy sedan or small SUV can be attractive to some motorists, others are considering a heftier three-row SUV. A three-row SUV may consume more fuel, but it also ensures both a great payload and passenger capability, and more power underneath the hood! You will have a mountain of advantages with these versions.
Here in our sales area, we present lots of reasonably priced three-row SUVs, as well as the many trims of the Mazda CX-9. The Mazda CX-9 is a vigorous SUV that can present the whole shebang you will require in a motor vehicle!
The Amazing Strength and Elegance of the Mazda CX-9
The Mazda CX-9 is a big SUV with great power at its disposal. Each version gets a muscular 227 horsepower 2.5-liter turbocharged engine with the option of forward-wheel-drive and all-wheel-drive. This turbocharged four-cylinder engine is put together with a lively 6-speed automatic transmission that gets the mission accomplished. When outfitted with the all-wheel drivetrain, you can find some significant control from this big SUV.
Within, you will discover three-rows of seats and an expansive 38 cubic feet of cargo room at the back of the second row of seats. An impressive 10.3-inch infotainment touch-display is also standard, as is Android Auto™ and Apple CarPlay™ compatible software.

To learn more about the 2021 Mazda CX-9, or other incredible Mazda SUVs get in touch with our agents now! This version has a load of advantages, some of which we have yet to talk about here. We will be more than happy to steer you through each one!