CarGurus Best Used Car Winner: Mazda3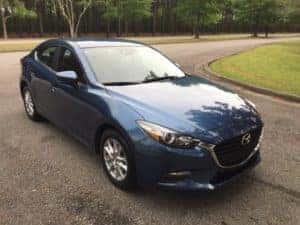 In a recent press release, Mazda let everyone know that the 2014-2018 Mazda3 was awarded the first-place honor for Best Used Car in the Compact Sedan/Hatchback category. Keep reading for all the great details!
CarGurus Used Car Awards
Nominees for the CarGurus Used Car Awards were selected from late-model vehicles originally available in the United States. Those vehicles were judged on the following categories: user reviews, professional test drive reviews, popularity, availability, and projected 12-year retention value. The Mazda3 was the overall award winner in the Sedan/Hatchback group. It received the highest marks in a very competitive field of vehicles.
"Shoppers who love to drive owe it to themselves to test-drive a pre-owned Mazda3" said Matt Smith, CarGurus senior editor. "Few vehicles deliver the same level of driving enjoyment, and even fewer do so while offering shoppers the choice between sedan and hatchback body styles. Add in the Mazda3's impressive value retention, and this sporty compact is a great choice for many shoppers."
Best Selling Mazda Vehicle
Debuting in 2004, the Mazda3 became the best-selling Mazda in the entire world. Mazda sold more than 5 million units of the Mazda3 thus far. It offers appealing driving dynamics, award-winning design and quality that is unmatched.
 "Our cars are designed to enhance people's lives and be an extension of their person," said Jeff Guyton, President of Mazda North American Operations. "We are thrilled to be honored with this award which recognizes Mazda's dedication to craftsmanship and ensures that our vehicles will delight for years after purchase."
Want to Learn More?
Do you want to learn more about the award winning Mazda3? By all means, call Beach Mazda today! We have a great selection of new and pre-owned Mazda3s on the lot. Get your test drive scheduled today! We are ready and waiting to help you!