Benefits of Buying a Used Mazda Car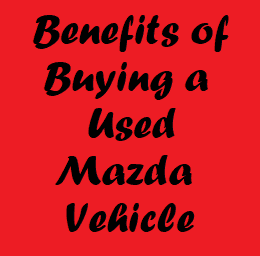 If you're in the marketplace for a brand-new car or needing buy a different version, you're possibly pondering if you ought to buy a new or preowned Mazda vehicle. Each individual's answer would be unique because every option has its own set of advantages. Everybody's financial position is unique, so that component comes into influence too. Prior to making any acquisitions, take time to thoroughly scrutinize your expenditures and requirements. Here at Beach Mazda, we'd like to reveal a few of explanations why you may prefer a used Mazda vehicle.
At our Mazda dealership in Myrtle Beach, Beach Mazda has a wide variety of great used/pre-owned Mazda vehicles along with additional makes and models of vehicles. What makes our used Mazda supply so extraordinary? All of our pre-owned vehicles go through a succession of checkups to make sure that they meet all of our superiority conditions.
Lower Payments
One of the initial and probably the most obvious advantage of purchasing a used Mazda vehicle from Beach Mazda is the sum of money you can conserve. Mileage, worth, and locale all play a part in deciding how good of a deal you can find on a pre-owned vehicle, and here at Beach Mazda, we can guarantee you get an incredible arrangement.
Cost-friendly Upgrades
The second benefit of buying a used Mazda car rather than new vehicles is that you could save money on an upgraded and higher trim level. When buying a used car, you should spend the same amount of money on a better car. You have a lot more possibilities in our used car lot, including models with improvements and premium trim levels for a fair price.
Less Devaluation
The last benefit of buying a pre-owned Mazda vehicle is that they don't decline in value as much as new vehicles. The difference among what your vehicle was worth when you purchased it and what it is estimated when you sell it is called devaluation. The value of your car depreciates over time as a consequence of regular wear and tear. As an outcome, the more you drive your vehicle, the more it devalues.
At Beach Mazda, we only sell quality Mazda vehicles that have passed our multipoint vehicle inspection. That means we're confident in the automobile! Please do not be reluctant to speak to us at our Mazda dealership if you want any individualized help. Our knowledgeable staff can help you. Likewise, be sure to take a look at our inventory of new Mazda automobiles. Alternatively, you can always just come see us today! When you purchase a used Mazda vehicle from us, we make things straightforward for you.