2021 Mazda CX-5 Features by Trim Level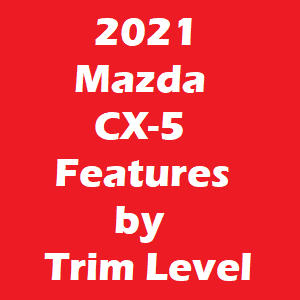 The Mazda CX-5 is back with a beautiful, fresh model that is enjoyable to operate and is packed with great elements. The fashionable SUV has a spacious and relaxed inside that seats five people comfortably, and it is run by a four-wheel drive or all-wheel drive system that makes horsepower enough for a sprightly drive without conceding on fuel efficiency.
The 2021 Mazda CX-5 secures numerous technology improvements that make operating more enjoyable. Here is a glance at what is on offer for the six trim levels, plus a new carbon edition:
Sport
The CX-5 gets an improvement this year with a 10.3-inch infotainment system display, which you will discover on each trim level, beginning with the base level Sport. The upgrade replaces a 7.0-inch display, so motorists will see a huge change. Other infotainment upgrades involve Apple CarPlay and Android Auto, which are now standard throughout trim levels.
Other technology accessible on the base level Mazda CX-5 contains satellite radio, a radio data system, speed-sensitive volume, a voice-activated radio, remote keyless entry, auto-locking doors, and distance-pacing cruise control.
Touring
With the Touring, you realize a little more tech features included. You find Internet access, remote release for the mechanical cargo access, dual-zone automatic temperature management, and remote engine start. You additionally obtain extra USB and DC charging ports, and you begin getting entry to several extra of the optional elements that are accessible on higher trim levels or in add-on packages.
Carbon Edition
The Carbon Edition is fresh for the 2021 Mazda CX-5, and it includes a special polymetal gray exterior combined with red upholstery. The Carbon Edition arrives with everything you will discover on the Touring trim, but it includes a few highlights, including Bose stereo, a power-adjustable passenger seat, a sunroof, and a power liftgate.
Grand Touring
As you step into the higher trim levels, you can anticipate the greatest features. Tech elements included at this trim level consist of an upgraded infotainment system with 10 Bose speakers and an amplifier, a key fob with hatch release, and front-zone dual air conditioning.
Grand Touring Reserve
Be expecting a few more twists on the Grand Touring Reserve to make driving feel a bit more opulent. Tech features included at this level incorporate a heated steering wheel, heated seats, and more points of adjustment for the driver and passenger seats.
Signature
The Signature trim is the highest trim, and you can believe to get all the greatest highlights at this level. You obtain all the technology on the previous trim levels coupled with a built-in navigation system with voice activation. You additionally find numerous extra luxury elements, such as leather seating.
The 2021 Mazda CX-5 has so much to offer. Additionally, all this terrific tech, you additionally find wonderful handling and a luxury layout. Beach Mazda is delighted to present this latest Mazda vehicle, and our welcoming and experienced associates are pleased to help you discover more about this fashionable SUV. Stop by today to investigate the new Mazda CX-5.